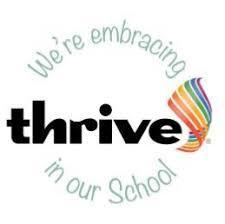 Our offer to families extends well beyond an academic education. We believe that to thrive a child and their family needs to have emotional and social stability, without this in place, learning will be extremely compromised. We therefore endeavour to support all our children and their families in this area of need. This could be on a daily basis or following a distressing time such as a bereavement or a family separation, or maybe the loss of a friend. Some children also need additional support with making friendships and building self esteem.
All teachers are trained to embrace Thrive in their classrooms and we have a Thrive practitioner who works with children on a 1:1 basis or in small groups depending on their need. Thrive helps adults prepare children and young people for life's emotional ups and downs.
The Approach teaches you how to be, and what to do, with children's differing and sometimes challenging behaviour. As a result, children become more self-assured and ready to engage with life and learning.
We also offer friendship group support and forest schools to a small select group of children in KS2.
Our door is always open to parents needing support. Please make an appointment with The Headteacher if you or your child would like some support or a conversation about relevant options.
We are sure that you will find our school and our staff nurturing and attentive.